When my husband came home unexpectedly only shortly after leaving for work, I knew why before I even opened the door to find his eyes rimmed red. He'd lost his job. The job we relied on 100%. That job provided our house, our insurance, and our only source of income.
So, now what?
That was the loss. And if you read last week's post, you know that change follows loss. But what I didn't mention was that it doesn't always come right away.
Sometimes, what's harder than the change itself is the anticipation of the change.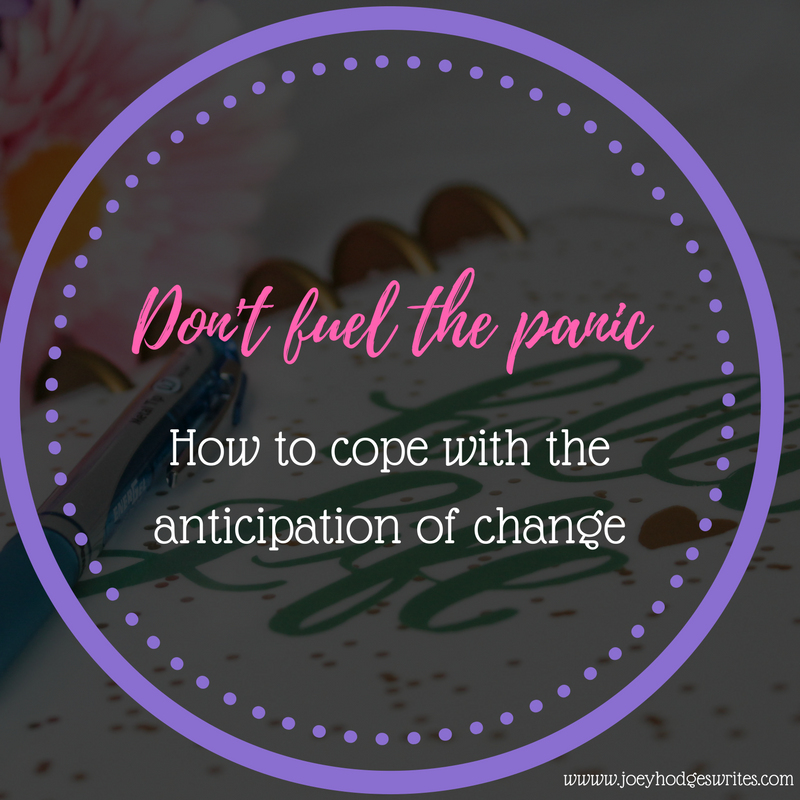 The void was instant, the change was imminent. Uncertainty knocks the wind out of you. You're a hamster on a wheel, desperate to find solutions, grasping at straws. You're rushing for resolution. This is about the time when people tell you to be patient. Everything will work out. You'll be fine. God has a plan.
I heard it all in those months of waiting out the unknown. The stress and panic and anxiety constantly gripping my throat.
I've uttered those same phrases to my Mom the last few months. You see, we lost my dad last year, and we just put her house (my childhood home) on the market. A change that followed loss that we anticipated all year.
It's in the anticipation of change where you learn to let go and let God. Because anything else fuels the panic. You've done all you can do, and all that's left is the waiting. The unfolding of a grander plan. It's crippling. Paralyzing. Frustrating and terrifying.
But if you let it, it can also be a beautiful rejuvenation of the soul.
Let change breathe life back into you. A chapter closed means a new one can begin. Endings are hard, that I know for certain. Loss is excruciating. And change can feel like the enemy. But I believe in the beauty of chance. I believe in God's timing and plan for your life, for my life. And while it's hard to understand why in the moments of loss and pain and fear, I do believe loss and change to a be rescue mission. A saving grace stepping in to move you on, to pick you up after your fall and guide you onto your new path. A path you may have otherwise ignored or missed altogether.
Because the truth is, we don't often welcome change into our lives. But change can really be the most beautiful gift of all.
All it takes a little of hope, a lot trust, a few deep breaths.