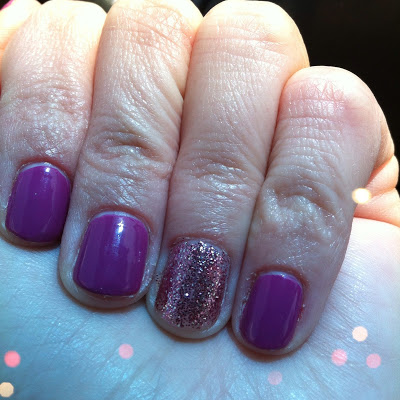 1. I wish the picture would do this manicure justice!! I'm absolutely in love with it. The glitter polish was a $.99 W&W polish: W&W wild shine: sparked! I was so pleased with how opaque it was! The pinky/purple is (shocker, I know) another megalast polish: Through The Grapevine. It's like I'm becoming a spokes woman for W&W. I was at Target last week with my mom & sister and we were browsing through the OPI and Essie polishes, and I had a startling realization. It's been MONTHS AND MONTHS since I've bought any fancy polishes. I'm so pleased with the W&W and sinful colors polishes that I can hardly justify the $9 bottles anymore. don'tgetmewrongistilllovefancypolish
2. I ran into one of my husband's players as I was walking into the doctor on Wednesday. Yoga pants. No make up. Rash all over my face (don't ask). It was in that moment that I cursed living on campus despite how much I love it.
3. I might have to give up salsa. I mean. What? You also better believe I straight up ASKED THE DOCTOR if I had to give up quesadillas. I might have flung myself out the second story window if he'd said yes.
4. I'm completely impressed with technology. One of my blogging BFFs (I feel like I don't even want to use the "blogging" specification) is halfway around the world right now. Exactly twelve hours ahead of me. And we've still found ways to communicate. Especially this week with all that's been going on, I'm so thankful for wifi and technology!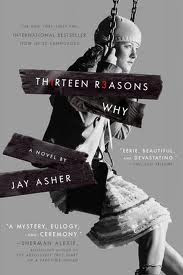 5. Thirteen Reasons Why by Jay Asher. I don't even know what to say about this book except that I feel like everyone should read it. Especially every high school student. This book is about a girl who commits suicide. Beforehand, however, she records her story–her reasons why–all thirteen of them. Those thirteen reasons are random acts by thirteen people who most likely had no idea that what they did could affect someone so greatly. So she sends them the tapes. This book is chilling and moving and wonderfully written. It's eye opening. And I highly recommend it. Four stars.
linked with: h54f, thenailfiles, fridaybookclub